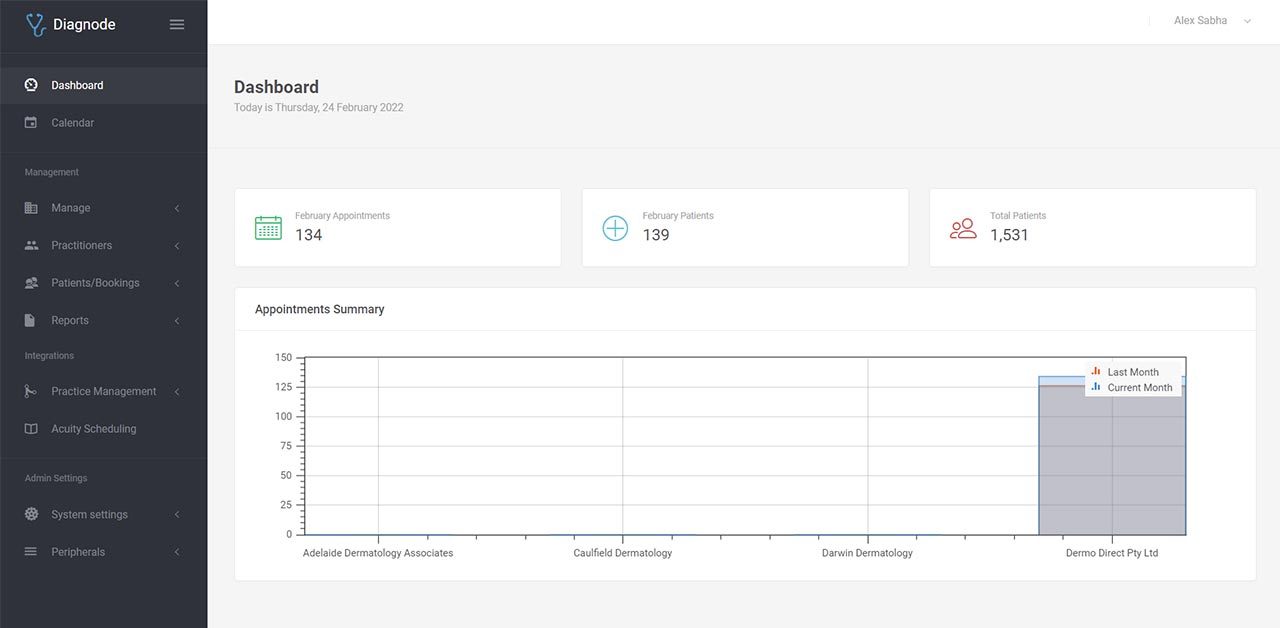 Diagnode Telehealth Platform
The Client
Diagnode is a customisable telehealth platform that incorporates your own clinic landing page, including functions to assess Telehealth rural eligibility, booking and scheduling, online payment system, video consultation, and Medicare tax invoice for Medicare rebatable appointments. This system was developed to streamline medical Telehealth for patients, doctors and reception staff.
The Challenge
In Australia, the demand for alternative methods of health care delivery systems like telehealth services increased during the COVID-19 pandemic. It is during the pandemic that the Diagnode team came to us to upgrade their already existing telehealth system, Dermo Direct so that it can be customised to be used by any kind of medical service. (The Dermo Direct website had already been upgraded by us once for teledermatology services).
They were keen on a system that is simple, lightweight, and dynamic, with a less complicated online booking and payment acceptance feature, Telehealth rural eligibility feature, and with latest technology integrated. They also want a system with an easy-to-understand video-consultation process and a less complicated Medicare rebate process. They didn't want any needlessly complicated setups and needed to create an easy way for doctors and practices to see their patients online through video consultations.
They also wanted us to build a website to promote the Dignode telehealth platform to the doctors and other health care providers. We were also chosen to market their platform on social media.
The Solution
We built a full telehealth system that is so easy to customise to the needs of the service provider. The founders of Diagnode shared their years of experience in providing teledermatology services so that we could build something containing all the bells and whistles necessary for a pleasant user experience.  The other functionalities we integrated into the system were a video platform, a booking management system, and the digital integration of the Medicare and Acuity Scheduling System.
We also built an appealing, minimalistic, and responsive website using WordPress to market the Diagnode telehealth platform. Our SEO team made sure that the site was built on proper SEO guidelines.
Our digital marketing team came up with the most effective strategy that consists of 7 significant steps:
Analysing the competition and customers
Devising the strategy
Defining the target audience
Constructing the content strategy
Picking the right channels and tactics
Measuring the success
Analysing and fine-tuning
The services we offered:
The Result:
A simple easy-to-use website with engaging content and persuasive calls to action optimised for mobile, search, and social web.
Through an effective social media strategy, we could achieve higher reach, engagement, amplification rate, referrals, click-through rate, conversions, and conversion rates.
We could acquire new clients such as Darwin Dermatology and Adelaide Dermatology Associates.
Inquiry for the platform was great.
We saw a tremendous response to our social media advertisements from the health care professionals